QUALITY ABOVE ALL ELSE
We are professionals in every sense of the word. We are well-trained, highly-skilled, experienced painters with exacting standards and a code of ethics to which we are committed. If you're looking for the highest quality work, you're talking Kevin Clanton Painting. Give us a call and let us show you what a dedicated team of professional painters can do
"OUR JOB SITE WAS ALWAYS CLEAN AND TIDY"

Brea Nelson Omaha, NE
---
EXTERIORS
Are you looking to brighten up your home? Getting ready to sell? Is your home exterior looking a little old or worn? It might be time to do some painting on the exterior of your house. Generally, a home exterior paint job is something that comes up every 6-8 years. Good looks aside, it's important to maintain your home's exterior paint to avoid more work and costly repairs in the future.
Prepping the exterior is the key to a great paint job. We take our time to caulk and prime the job before we begin painting. We use sprayers rather than brushing and rolling the exterior to ensure a thick coat of paint for a long lasting finish. Whether you need to freshen up the walls in your home or just want to change up the color we are here to help you with that selection process.
---
NEW CONSTRUCTION
Residential & Commercial – Interior & Exterior
Our new construction customers have a vision for what they want their new home to look like. We enjoy bringing that vision to life!
---
REMODELING & REFINISHING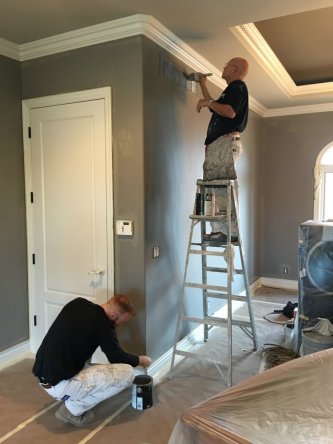 Remodeling and refinishing are what our company's reputation was built on. Being trusted to come into a client's home and work is an awesome responsibility. We love it!
With the cost of lumber and materials skyrocketing, refinishing is a great inexpensive alternative. Our goal is to make the room look new without the cost of new cabinets and trim.
Cabinets are our niche – it's where we differentiate ourselves from our competitors. We use top of the line lacquer products that will last a lifetime. We pride ourselves in our woodwork finishing, so if you are looking for a smooth finish look no further!!