Kevin Clanton Painting provides premium residential painting and cabinet finishing services in the Omaha Metro and surrounding areas.
Kevin began painting with his father when he was 13 years old, and now has 20 years of painting and woodwork finishing experience. He started his own painting company, Kevin Clanton Painting, in 2006.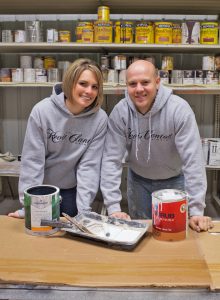 He attended high school at Mount Michael in Elkhorn, NE and graduated from the University of Nebraska at Omaha (UNO) in 2003, with a degree in Business Management. He played college & high school basketball and remains active in the sport, teaching and mentoring young players.
In August 2010, Kevin married Andrea Fellows, a healthcare management professional from Omaha. Andrea has an undergraduate degree from the University of South Dakota and a Masters degree in Public Administration from the University of Nebraska at Omaha (UNO). Kevin and Andrea have two children, Katy & Canon. Andrea is a stay at home mom to both of their children and plays a big role behind the scenes handling bookkeeping, payroll, and general business management for the company.
When they are not working they enjoy hanging out with friends, their kids, being outdoors, and just relaxing at home.
They've decided to keep the company small, so customer service can be a priority. In Kevin's words, "My customers want me on the job site and expect me to know exactly what is going on". To accomplish this, they focus on existing homes, new homes, and woodwork. "We are extremely excited about our cabinet niche. Re-finishing cabinets and finishing new cabinets has become one of our favorite jobs to do".
Their mission is to please every customer with a high-end quality product. Leaving every job with an excited and satisfied client is the main goal. Every customer wants the job to look fantastic while paying a fair price, this is where Kevin Clanton Painting excels!
Kevin loves what he does because he gets to meet new people everyday and make their vision a reality. If you're considering an interior or exterior painting project or refinishing your cabinets, give them a call at (402) 707-0333 anytime!